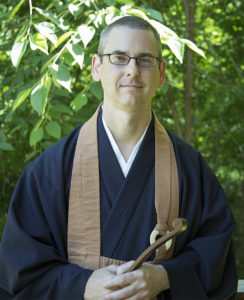 Teshin Matthew Sweger is the abbot and teacher at the North Carolina Zen Center. He began Zen practice at the Rochester Zen Center in 1993 and continued his training at Windhorse Zen Community in Asheville, NC.  He was ordained as a Buddhist priest in 2004 by Roshi Lawson Sachter and later sanctioned to teach by Roshi Sevan Ross.  He served as the Buddhist Chaplain for the University of Rochester for 5 years and continues his work as a licensed psychotherapist and carpenter.
Teshin and his wife Dana relocated to Pittsboro in 2017 to take up residence at the NCZC. 
The North Carolina Zen Center is overseen by the Board of Directors.  We are:
Richard McGough, President
richard.b.mcgough@gmail.com
Leigh Hall, Treasurer
leighbhall@icloud.com
Scott Durso, Secretary
s.durso03@gmail.com
Joe Kenlan
genjok@yahoo.com
Ken Simon
ken.simon@yahgoo.com
Lisa Sullivan
lisa@casullivan.com
The general operations of the Center are managed by several committees.
Outreach Committee
Lisa Sullivan, Chair
KT Leary
Sam Needleman
Facilities and Finances Committee
Matt Young, Chair
mattkimyoung@gmail.com
Leigh Hall, Member
leighbhall@icloud.com
Membership Committee
Scott Durso, Chair
s.durso03@gmail.com
Neal Oldham, Member
oldham.neal@gmail.com